Pre-game Brunch Superbowl LIV
February 02, 2020 02:00 PM until February 02, 2020 12:00 PM
Come watch the 54th Superbowl at the hottest rooftop in Wynwood!
Sunday, February 2nd join us for Superbowl 54 at Wynwood's premier rooftop!
Doors open at 2 pm
Kickoff starts at 6:30 pm
Large screen TV offering full viewing access to the big game! Ticket purchase includes a 3-hour open bar (beginning at 6 pm); beer, wine, select cocktails, and specialty drinks inclusive of gratuity.
Food options available to purchase include; east coast oysters, stone crab claws, hot dogs, burgers, and fried chicken.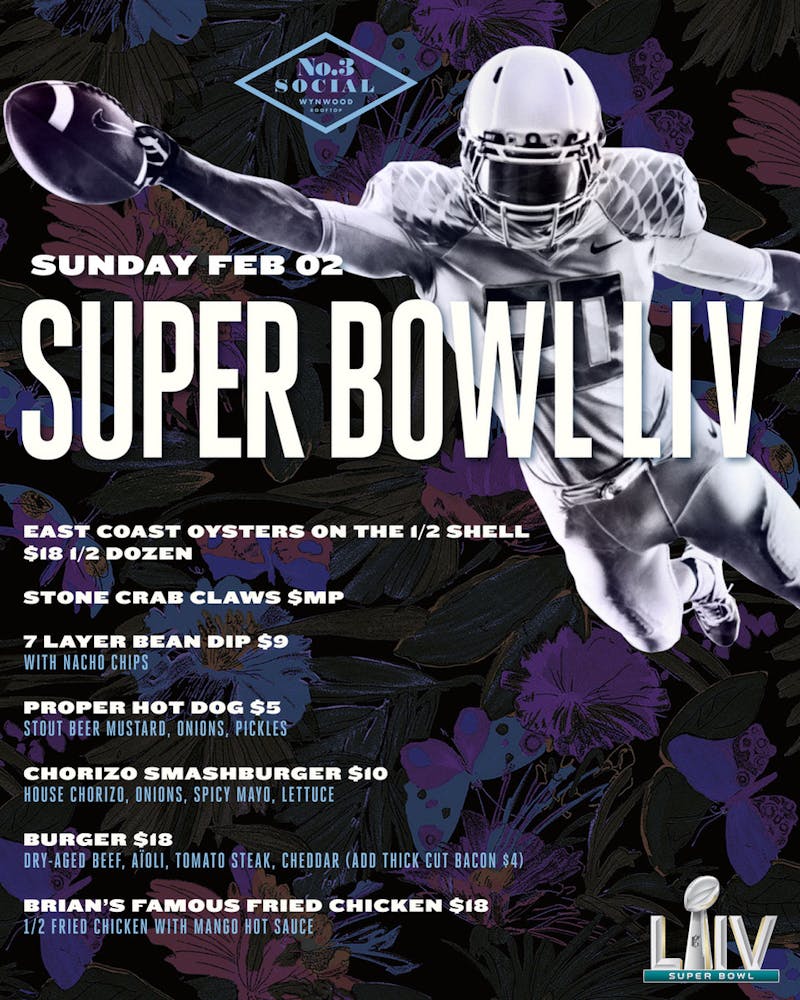 Come early and enjoy the sounds of Lady CBreeze. Drink & Food Specials will be available all night! Don't miss out on all the fun! For table reservation please contact 917-304-5755 or email rciavolino@southboundhospitality.com.
Social Delights
Up the cascading steps of the Wynwood Arcade, above the painted streets and art-laden walls of Wynwood, guests can discover the eclectic charms of No.3 Social, Southbound Hospitality's rooftop lounge introduces guests to a tropical realm of art, comfort and flavor, where they can enjoy a selection of globally-inspired street foods, all with a Florida cultural and culinary influence; accompanied by a bar program that features vibrant cocktails inspired by local ingredients, a carefully selected wine list, and craft beers.
Social Events
No.3 Social is alive with music: DJs spinning, live bands, a carefully crafted social soundtrack influenced by past and present, all as a backdrop to events inspired by the Wynwood community. Whether the sun is setting over the Wynwood Arcade, or the sky is dotted with stars, guests can enjoy the soulful and eclectic vibes of this unique space, becoming part of the artistic and cultural nuances that make Wynwood famous.