Paradise Disco Miami MMW/WMC Edition, Jellybean Benitez & friends
March 20, 2020 09:00 PM
No. 3 Social Rooftop Bar and Lounge present Paradise Disco with music by Jellybean Benitez, Eli Escobar, Tony Carrasco, and Michelle Leshum.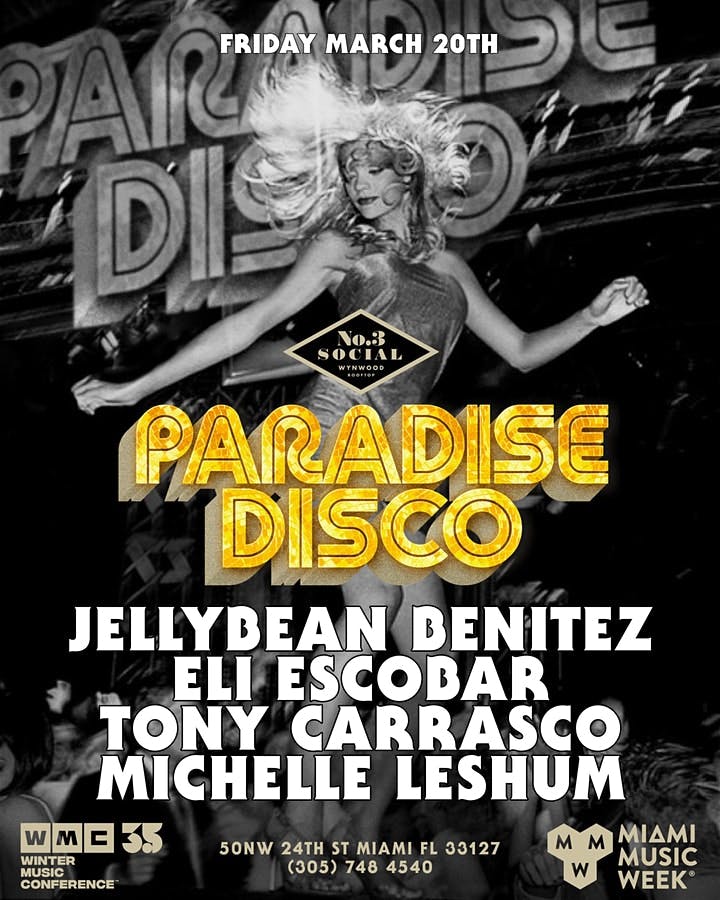 No. 3 Social Rooftop Bar and Lounge present
Paradise Disco Miami
Winter Music Conference -Miami Music Week Edition
Friday, March 20th
Doors open at 9 pm.
Don't miss Wynwood's Hottest New Monthly Dance Party.
LINE UP
JELLYBEAN BENITEZ
ELI ESCOBAR
TONY CARRASCO
MICHELLE LESHUM
Jellybean Benitez, also known as Jellybean, is a songwriter, DJ, remixer and music producer. He has produced and remixed artists such as Madonna, Whitney Houston, Michael Jackson, and the Pointer Sisters. In December 2016, Billboard magazine ranked him as the 99th most successful dance artist of all-time.
No. 3 Social is Southbound Hospitality's culturally vibrant Rooftop in the Wynwood-Art District neighborhood of Miami.
FOR TABLES CONTACT Rosie 917.304.5755
RESERVED TABLES -BOTTLE SPECIALS (no cover charge for table guests)
Social Delights
Up the cascading steps of the Wynwood Arcade, above the painted streets and art-laden walls of Wynwood, guests can discover the eclectic charms of No.3 Social, Southbound Hospitality's rooftop lounge introduces guests to a tropical realm of art, comfort and flavor, where they can enjoy a selection of globally-inspired street foods, all with a Florida cultural and culinary influence; accompanied by a bar program that features vibrant cocktails inspired by local ingredients, a carefully selected wine list, and craft beers.
Social Events
No.3 Social is alive with music: DJs spinning, live bands, a carefully crafted social soundtrack influenced by past and present, all as a backdrop to events inspired by the Wynwood community. Whether the sun is setting over the Wynwood Arcade, or the sky is dotted with stars, guests can enjoy the soulful and eclectic vibes of this unique space, becoming part of the artistic and cultural nuances that make Wynwood famous.
www.no3social.com